In the past, plumbers were forced to make educated guesses when dealing with pipe damage; with our home sewer inspection tools available today, that's no longer necessary. If your drains are slow, backing up or emitting foul odors, video inspection can identify the problem with ease.
This applies to home sewer and drain clogging due to root intrusion, sludge, scaling, grease, oil or other buildups. Schedule your FREE video inspection today!
What is Sewer Video Inspection?
During a residential pipe video inspection, we insert precision video cameras into your line, and examine whether your pipes are actually broken (cracks, fissures) or merely obstructed (hair, grease, scaling).
For homeowners, that kind of certainty pays for itself in peace of mind alone. Using video inspection equipment to identify damage could potentially save you thousands of dollars in materials and labor.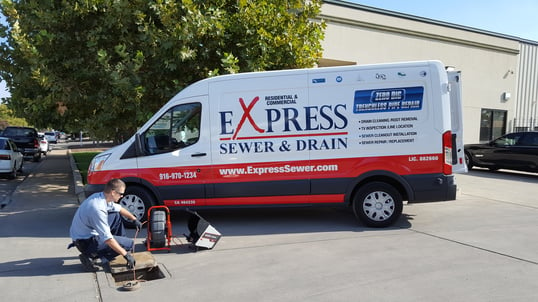 Sewer Video Inspection
Sewer line renovations are among the most stressful and expensive home repairs people can be faced with. For long lasting results, however, it's important to find the best in the business to resolve to your sewer problems.
Video inspection is almost always the first step in sewer line repair. It's the most effective way to identify how severe damages are to your home's sewer, as well as the right solution for the job.
Professional video inspection services can evaluate:
Protruding lateral pipe
Root obstruction
Cracked pipe and offset joints
Recessed taps
Collapsed pipe and infiltration
Service and commercial laterals
Drain lines
Commercial clean-outs
Yard and floor drains
With video sewer inspection, we can diagnose specific pipe problems correctly the first time. No matter what is causing sewer pipes to back up, video inspection tools can identify the exact problem, it's extent and the most effective repair options.
To schedule your FREE video sewer inspection, please fill out the form and click the submit button. We will contact you as soon as possible to get you on the schedule!